About the SwissCham Mexico
History and activities of the SwissCham Mexico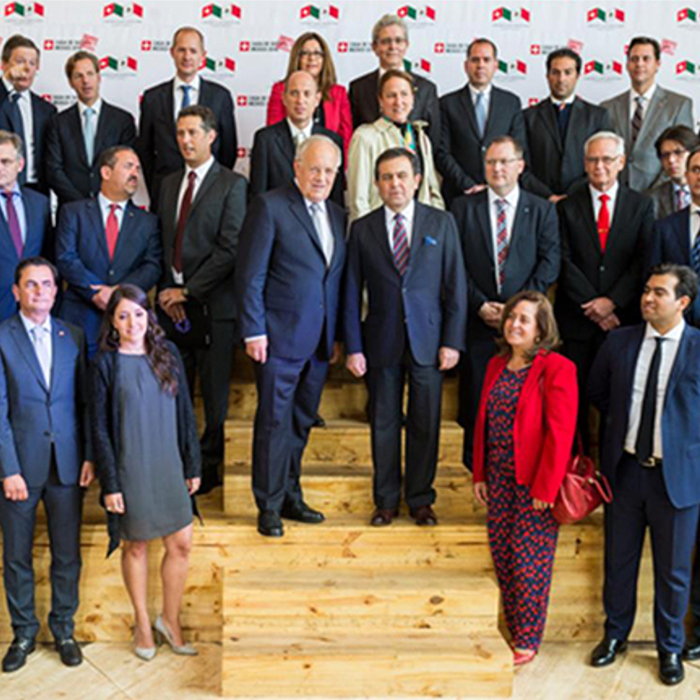 The Swiss-Mexican Chamber of Commerce and Industry (SwissCham Mexico) is a non-profit association, which its main function is to serve as a commercial bridge between Switzerland and Mexico, as well as to group companies in Mexico that have close commercial ties with Switzerland and Liechtenstein. The Chamber is composed of 41 Swiss companies, which generate around 36, 000 direct jobs in Mexico.
The investments of our members contribute to make Switzerland the ninth largest foreign investor in Mexico. In 2017, Swiss investment in Mexico represented more than 5.7 billion USD. The members of the Chamber represent all sectors of the Swiss economy including: banking, insurance, trading, food & beverages, chemical companies, pharmaceutics, machinery, watchmaking, and technology.
It groups the Chief Financial Officers (CFOs) to discuss economic and financial issues, as well as the common challenges and opportunities that affect Swiss companies in Mexico. It has a Specialized Working Group on Tax Issues.
It assembles directors of Human Resources to discuss labor issues, such as, work conditions and salary equality. It has a Specialized Working Group on Dual Education for companies implementing or wishing to start with the Mexican Model of Dual Education (technical apprentices in companies).
It groups directors of social responsibility or corporate communication and legal directors to share best practices and values in development projects that contribute to social, economic and cultural development in Mexico. It also addresses subjects like ethics, transparency, integrity and fight against corruption.
It gathers commercial or logistics directors in order to cover issues like trade policies, imports, exports, customs, governmental regulation, and international free trade agreements such as NAFTA and Mexico-EFTA free-trade agreement.
It groups legal directors to promote and protect intellectual property systems that encourage bilateral trade, promote innovation-based investment, and ensure a favorable framework in intellectual property.
It assembles representatives of Swiss companies to exchange good practices in sustainability, foster sustainability through advanced technologies, including renewable energies and energy efficiency, and the application of standards that are above Mexican regulations. In addition, it encourages dialogue with key actors in the energy and environmental sector in the framework of the Energy Reform.
It brings together business executives to generate concrete proposals based on best practices and scientific information, in order to improve the health, technology, and innovation systems in Mexico. In addition, it aims to be a means to influence health policy in Mexico and to defend the interests of the members of the Chamber.
It gathers security executives to share best practices in business security, address risks and promote security through technologies and advanced systems. In addition, it seeks to influence security public policies in Mexico as a group.